Education IT Solutions
AKA Comp's Comprehensive solution is an innovative approach to outsourcing IT support for schools. With this approach, we look at any school from a ModernSchool's perspective. In order to bring 21st century innovation to the classroom, technology has to play a key role. We help schools achieve this goal in the most practical, economical and strategic way.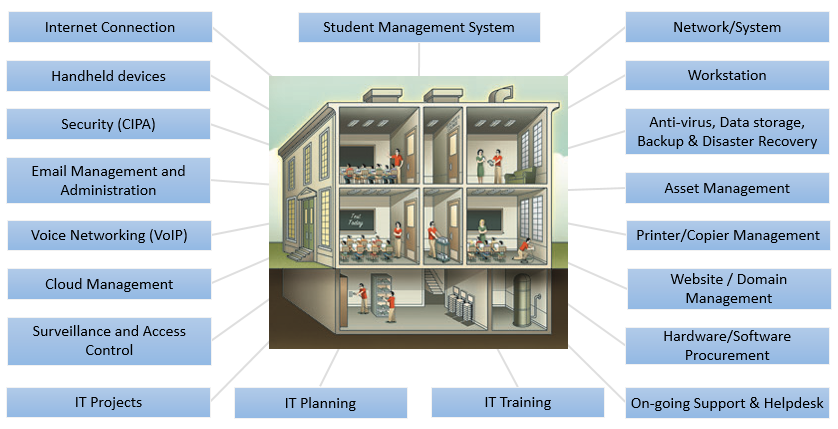 In today's digital age, technology has become an integral part of the education industry. With the growing demand for digital learning, schools, and educational institutions need reliable IT services to provide their students with a seamless learning experience. Proactive Education IT Services can help ensure that educational institutions have the necessary technology infrastructure to support their student's academic growth.
Here are some ways we provide proactive Education IT Services to our Modern School IT clients.
Technology Planning and Implementation
Our proactive Modern School IT Services begin with technology planning and implementation. Our team of IT experts works closely with the school administration to understand their specific needs and goals. Based on their requirements, we develop a technology roadmap that outlines the necessary hardware, software, and networking infrastructure. Our team then implements the plan, ensuring that all equipment is set up correctly and ready for use.
Security and Compliance
We understand that security and compliance are critical for educational institutions. With sensitive student information at stake, we take a proactive approach to security by implementing multi-layered security protocols to protect against cyber threats. We also ensure that our clients comply with the necessary regulations, such as the Family Educational Rights and Privacy Act (FERPA) and the Children's Online Privacy Protection Act (COPPA).
Network Management and Monitoring
A robust and reliable network is vital for any educational institution. We provide proactive network management and monitoring services to ensure that our client's networks are always up and running. We use advanced network monitoring tools to detect and resolve issues before they become a problem. Our team also performs regular maintenance and upgrades to keep the network infrastructure running smoothly.
Technical Support and Training
We understand that educational institutions require quick and reliable technical support. Our team of IT experts provides 24/7 technical support to ensure that our clients' systems are always running smoothly. We also provide training for teachers and staff on how to use technology effectively in the classroom, ensuring that they can provide students with the best possible learning experience.
Cloud Services
Cloud services can provide significant benefits for educational institutions, such as easy access to data and applications from anywhere, scalability, and cost-effectiveness. We provide proactive cloud services, including email hosting, cloud storage, and collaboration tools, to help our clients leverage the benefits of the cloud.
TO SUM IT ALL UP:
Our Modern School IT Platform can provide the proactive IT Services which can help educational institutions provide their students with a seamless and secure learning experience. Our team of IT experts provides comprehensive IT services, from technology planning and implementation to technical support and training. With our proactive approach to IT, we ensure that our client's technology infrastructure is always up-to-date, secure, and reliable, allowing them to focus on their primary mission of educating students.